As a photographer I have always longed to shoot in certain destinations and Sicily was one of them. Fashion Editor – Sarah Gore Reeves.
Vogue Latin America – Sicily 'Castello di Falconara'
Castello di Falconara is about a 3-hour drive from Catania in Sicily. It's featured in Herbert Ypma's Hip Hotels 'Italy' book. Herbert always profiles unique hotels with great history and character. It dates back to the 13th century and subject to various successions, today the castle is the property of the Chiaramonte Bordonaro family who has opened it to the public, making it available for exclusive holiday rental.
It's perched on dramatic white cliffs above a rocky beach and you enter from an arched, decrepit iron gate that feels like a set from a Tim Burton film. The façade and front are medieval and the entrance foyer is filled with stuffed animals and birds (hence the name 'Castle of the Falconer'). As you move through the entrance, the architecture changes to a 17th century Renaissance style that reminded me of the great Visconti film 'The Leopard', starring Burt Lancaster and Claudia Cardinale. The film is about the Prince of Salina, a noble aristocrat of impeccable integrity, who tries to preserve his family and class amid the tumultuous social upheavals of 1860s Sicily.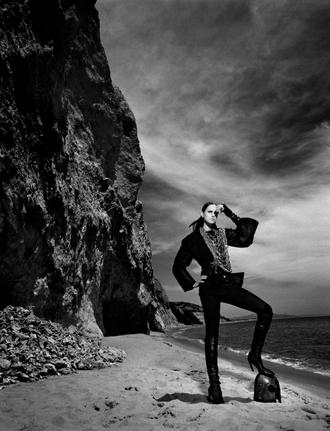 The large living room has wonderful fading red flock wallpaper, 19th century furniture, paintings, family portraits and lots of family snapshots in frames. The entire castle feels like you have stepped back in time. The villa has a huge central courtyard with a pretty garden and pool. Beyond the courtyard gates is a private beach with boulders and black sand. Food is prepared by the butler and his wife is a mix of Moroccan and Italian. Imagine lots of vegetarian dishes like eggplant parmigiana with ricotta…clean, healthy and delicious. It's the perfect place to go with a group of friends for a fun week.
My favorite shot is the horizontal image with the horse seen below. I wanted to capture the fantastic entrance. We shot close to midday, when the light filled the entrance courtyard. The model's scarf below in the breeze, she raiser her hand holding the leash, it aligned perfectly with the horse waiting in the background, and so I snapped and caught this surreal moment.
We shot on Hasselblad using Profoto 7b, using 3 grid spots in total. One spot on her face, one spot on her hip, and one on the feet. The sun was quite top heavy and acted like a rim light. The remainder of the shoot was shot around the castle and beach. That night we had an amazing dinner prepared by the household chef and then woke at 4 am to drive to Catania for our next shoot…no rest for the wicked!