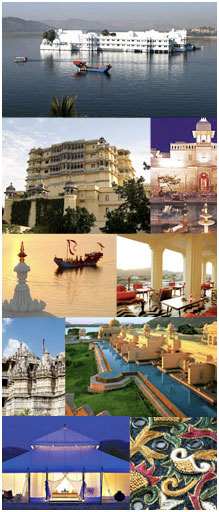 Some refer to Udaipur as The Venice of the East. It is an amazing international destination and the largest city in South Rajasthan. Situated around an oasis of three lakes, it's impossibly romantic, full of palaces, temples and havelis of superbly crafted elegance. The old city has remnants of the original city wall tangling around beautiful Lake Pichola, where you'll see bathing ghats and island palaces.
The centerpiece of the city is the floating Lake Palace, used as a location in the Bond film Octopussy. Packed with princeliness and passion, Udaipur is raw Rajput dreaming, with palaces, havelis and temples at every turn. In recent years with changing weather patterns and the lack of rainfall, lake Pichola was left dry and the palace was left standing on the mud flats. But in 2006 a record rainfall returned the lake to its natural splendor and restored the heart of Rajasthan's most romantic city.
HISTORY
Udaipur was the capital of the Rajput kingdom of Mewar, ruled by the Sisodia clan. Udai Singh became its founder. The ancient capital of Mewar was Nagda, located on the Banas River northeast of Udaipur. Legend has it that Maharana Udai Singh came upon a hermit while hunting in the foothills of the Aravalli Range. The hermit blessed the king and asked him to build a palace on the spot and it would be well protected. Udai Singh established only a residence there, but in 1568 when the enemy kingdom of Mughal captured Chittor, Udai Singh moved his capital to the site of his residence, and it became Udaipur.