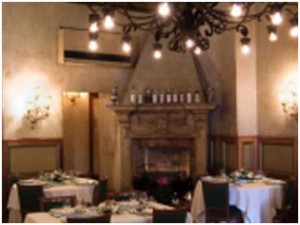 PARIS
Piazza San Calisto 7a,
T 06 58 15 378
Have dinner here after a long romantic walk over the river. Yes, the restaurant is located on the other side of the Ghetto. But I love the Roman way of Jewish cooking. I find it quite delicious, and the only negative is you have to book early.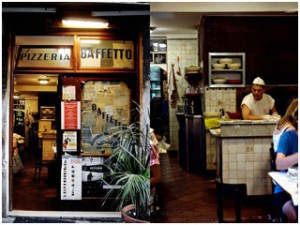 DA BAFFETTO
via del Governo Vecchio,
T 06 68 61 617
Most likely you'll have to wait a bit before you are able to eat some of the best pizza in Rome, as the waiting time is quite long normally. But it's well worth it.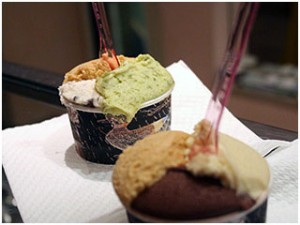 IL GELATO DI SAND CRISPINO
42 Via della Panetteria,
T 06 679 3924
Much like high-end yogurt or rice pudding spots in the states, Rome has begun to see the rise of super chic gelateries. Il Gelato de San Crispino is one of the first and probably still the best. The products used are always fresh, and you'll appreciate the atmosphere.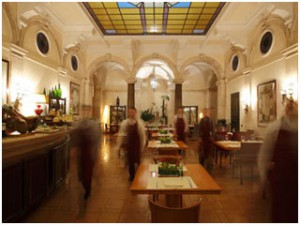 CASA BLEVE
48-49 Via del Teatro Valle,
T 06 686 5970
Rome's most luxurious wine bar occupies the former courtyard of the 16th-century Palazzo Medici Lante della Rovere, long since roofed over with a Deco-style glass canopy.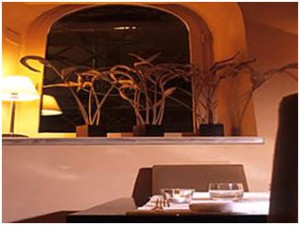 L'ANTICO ARCO
Piazzale Aurelia 7,
T 06 58 15 274
On top of Janiculum Hill, the view is fantastic and you can actually taste love in the food. Hardcore food and wine lovers, the three owner are friends and decided to open up a restaurant where they could share their passion. I've heard L'Antico Arco attracts foodies from all over the world, and you will understand why after eating here.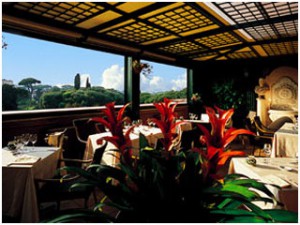 HOTEL EDEN
Via Ludovisi 49,
T 06 478 121
If you want to feel glamorous, climb to the top floor of Hotel Eden and sip on a cocktail or Champagne. The view adding to the ambiance is the perfect way to start or end the night.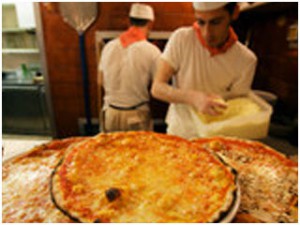 DA FRANCESCO'S
Piazza del Fico
Although you might have to wait, come to Da Francesco's for no frills delicious Roman cooking. The loud diners might keep some people away, but the food is unbelievable.
PALATIUM
94 Via Frattina,
T 06 6920 2132
Rome is the capital of the regional government of Lazio. The government opened Palatium to promote local wine and food. Come to the stylish and sleek restaurant before a night out on the town. The dishes are light, and the crowd will put you in a mood to see more of the beauty that awaits everywhere in Rome.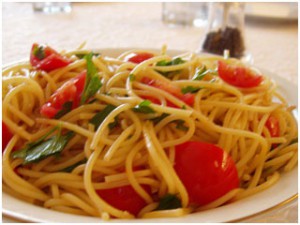 MONSERRATO
Via Monserato,
T 06 68 73 386
If you have a hankering for a good plate of pasta, head to this charming trattoria near Piazza Farnese.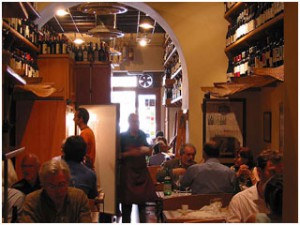 CUL DE SAC
Piazza Pasquino,
T 06 68 80 10 94
Grab a light lunch here, and check out the sculpture out in the piazza. This is where, if one wanted to spread gossip, you'd find notes of scandal and treachery in old times. But other than that piece of history, the wine and meats are cheeses are simple and nostalgic.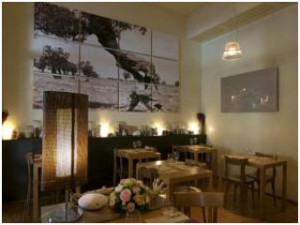 SETTEMBRINI
25 Via Luigi,
T 06 323 2617
It's so hard to find a restaurant with not only elegant and stylish design but also good food and service, as well as reasonable prices. Okay, it's next to impossible. But close to Piazza Mazzini, you'll find a diner that keeps changing throughout the day: from panino bar to smart buffet lunch, then on to afternoon tearoom, pre-dinner wine bar, and finally a lovely evening restaurant.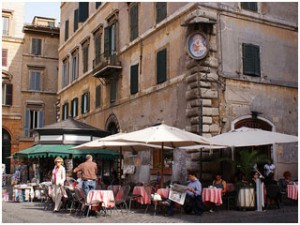 CAFFE FARNESE
Piazza Farnese
A favorite place to catch the morning sun while eating breakfast, drinking coffee, and watching people.