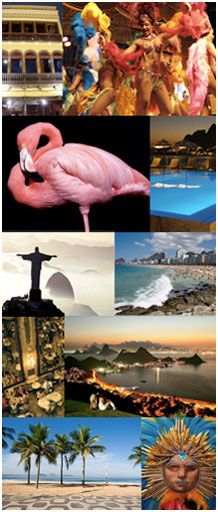 Rio de Janeiro is one of the most geographically striking cities in the world, with Sugarloaf Mountain and The Statue of Christo overlooking the breathtaking diamond-studded coastline featuring Copacabana and Ipanema beaches. Women's hips sway to the gentle rhythm of Jobim's music. And the men's well toned sundrenched bodies glisten as they play sports along the shores. Without a doubt, the one word exotic can be best used to describe this amazing city. And in Rio, beaches are just one part of life because after the sun has set, when samba pulses almost everywhere, the party begins and continues through unto the next day. With all the activity and live theater, it will be hard to go back home.
HISTORY
When gold and diamonds were found in the neighboring area Minas Gerais, the Portuguese government decided to move the colonial administration from Salvador to Rio de Janeiro as a means of convenience for exporting the newly-found wealth. The city remained a colony until 1808, when the Portuguese royal family moved to Rio in order to escape Napoleon's invasion of Portugal, and Rio became the capital…the first and only European capital outside of Europe. Rio kept being the capital of Brazil until 1960.
Until the early part of the 20th century, the city was largely limited to the neighborhood now known as the historic Downtown business district on Guanabara Bay. In the early part of the 20th century, the city's center of gravity began to shift south and west to Zona Sul, when the first tunnel was built under the mountains located between Botafogo and the neighborhood now known as Copacabana. That beach's neighborhood now known as Copacabana. That beach's natural beauty, combined with the fame of the Copacabana Palace Hotel, the luxury hotel of the Americas in the 1930s, helped Rio to gain the reputation it holds today as a beach party town.