On the Lamb
The idea was to create a series of images that looked like a 1950s thriller. A film noir theme about a woman 'On The Lamb'. She is mysterious and glamorous and we are not sure where she is running or why.
A femme fatale, seducing men and disappearing in the middle of the night. It's David Lynch meets Hitchcock, using Amber who has an uncanny Ava Gardner quality, both physically and in her personality. Sexy, strong, lady-like and tough.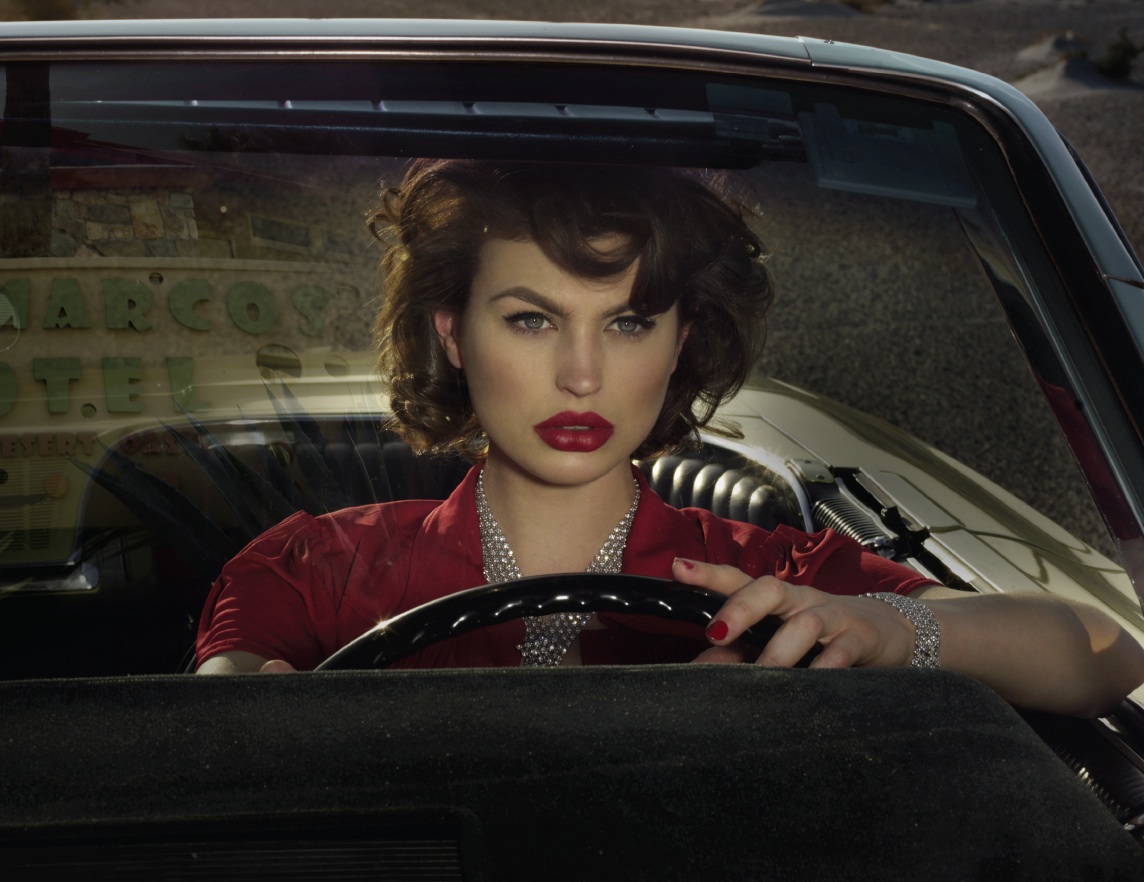 We shot in and around the fantastic Del Marcos Hotel in Palm Springs. The owners have refurbished it with original 1950s pieces so it's like stepping back in time.
I'm a huge fan of Palm Springs to shoot. I love the 150s mid century homes. The most famous ones are by Richard Neutra, John Lautner and Stewart Williams. This iconic architecture is juxtaposed with he greenery and blue skies. It rarely rains there so it's always sunny.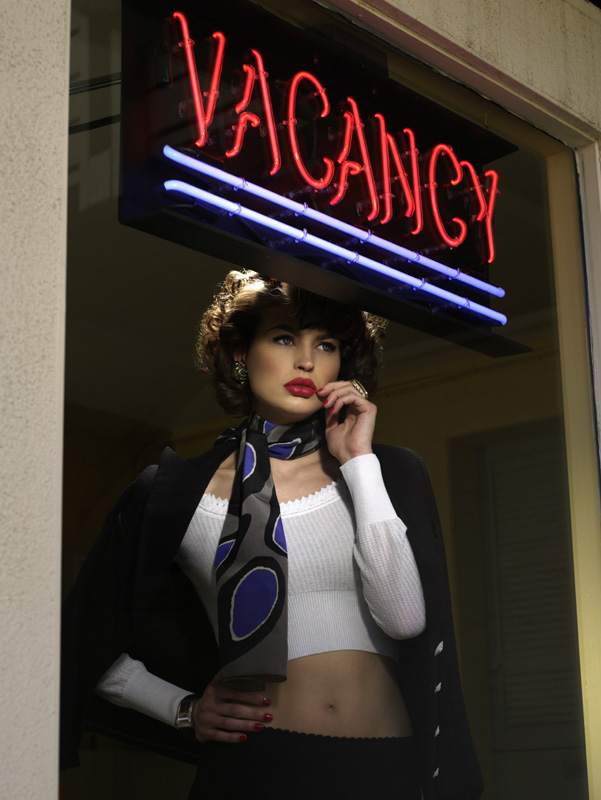 I would recommend an architectural tour and a hike up into the rocky canyons to the waterfalls. There's great vintage shopping, fantastic hotels and restaurants.
Driving
For this image of our model 'driving' we used a canary yellow Cadillac from 1957. In order to get the reflection of the hotel sign in the windscreen window, I shot it as a plate and stripped it together in post.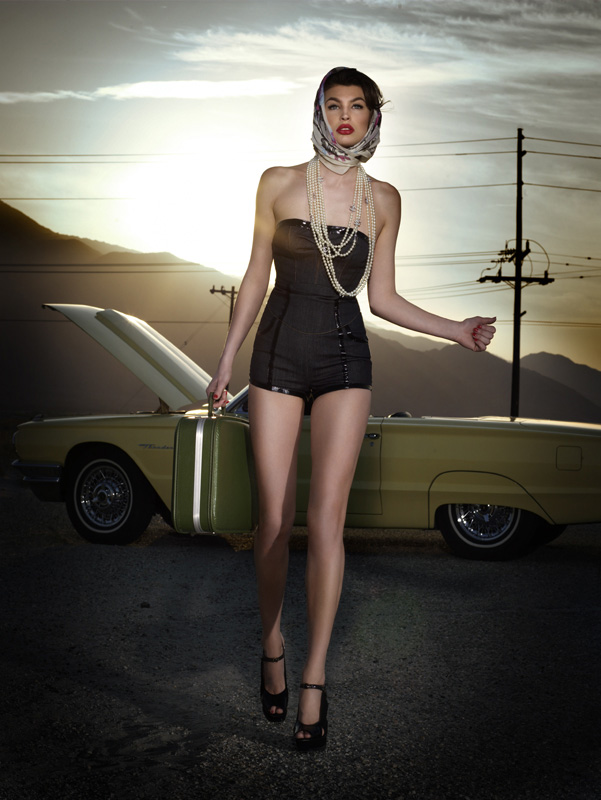 The lighting was a small grid spot in the front to fill face and a medium grid on the back with warming gel to feel like sunlight. It's exposed at F11 to give a great depth of field using Hasselblad 80mm, with phase back Lighting Profoto 7B.
Night flight
The photograph of the woman on the phone was taken in one of the hotel rooms at The Del Marcos Hotel. As part of our story, the heroine slips out in the middle of the night while her jilted lover (actually the photo shoot hairdresser) lies sleeping.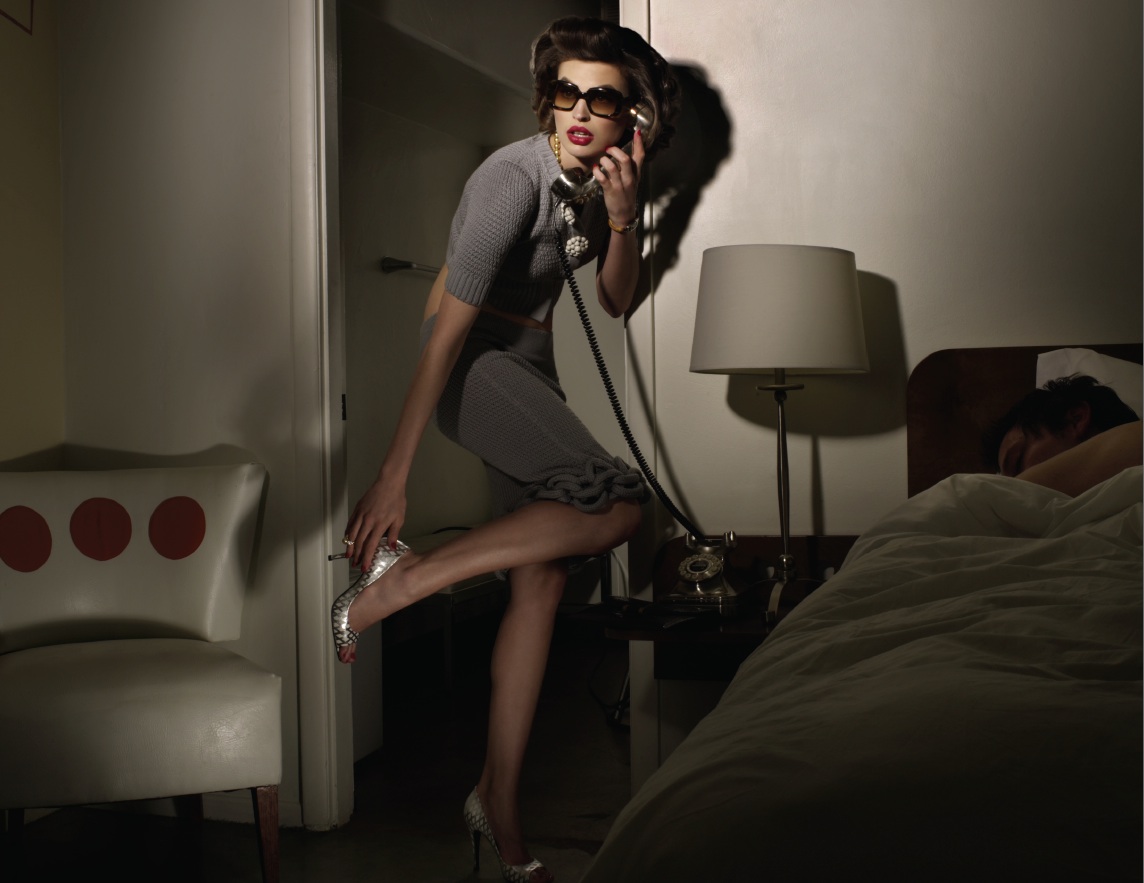 Who is she talking to? Does it matter?
It's all part of the intrigue and mystery.
We lit her with 3 grid spots. One spot on her face, one spot on her hip and one spot on her legs (highlighting the chair). The small grid spots create depth and movement of light. We filled the room with a little ambient bounce from the ceiling. The bathroom has a small grid spot on a lower exposure so it didn't become a black hole.