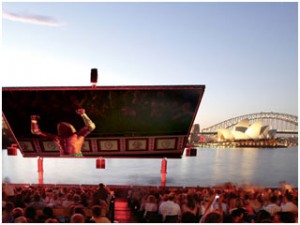 SYDNEY AND MOVIES
Sydney is one of the most recognized and photographed cities in the world. It's no surprise that many movies have been filmed here. Before visiting, watch "They're a Weird Mob" from 1966. You'll see the world through the eyes of a newly-arrived Italian immigrant. Tourist spots shown are Bondi Beach, Manly, and Neutral Bay, along with many other exterior locations. Fox Studios has used
Sydney in a number of films including Mission Impossible 2 and The Matrix. And if you want even more inspiration before coming to Sydney, check out or watch again Finding Nemo, which transforms Sydney into a Technicolor jewel. I always like seeing how a city has been caught on film, before or after visiting.
BONDI BEACH
Some consider this to be the most famous stretch of sand in the world, and when you come to Sydney, you must take in at least a few of the activities available here. In high season the golden sand will be teaming with people, but it's fun to sit back and enjoy the scenery. The water between the flags is quite lovely, and if it ever gets too wild, just return to the beach and watch the surfers and lifesavers. Head to Campbell Parade and do a little shopping or have lunch. The place is filled with all types of people, from tourists to surfers to models. After lunch head to Bondi Icebergs and then find the coastal path, which starts behind the famous clubhouse, and goes to Tamarama Beach, where the beautiful people go, and then further down the path you'll find Bronte Beach, Gordon's Bay, and finally Coogee, a quieter beach than most.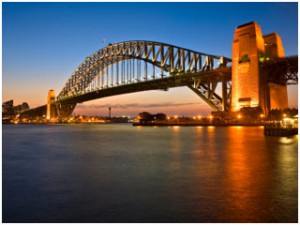 SYDNEY HARBOUR BRIDGE
The largest steel arch bridge, which opened in 1932, will leave you speechless with its size and splendor. You can participate Bridge Climb, a three-hour guided hike, to take in the majesty of Sydney Harbour as well as appreciate the bridge's beauty and engineering. But if you're not feeling the exercise, head toward the Southeast Pylon of the bridge where you can see a 360 degree view of the city, as well as a gallery of the bridge's development.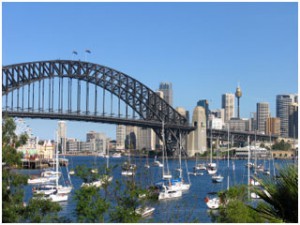 PACIFIC SAILING SCHOOL
Cruising Yacht Club of Australia,
New Beach Road,
T 02 – 9326 2399
pacificsailingschool.com.au
Sydney Harbour is one of the perfect places to go sailing. Go to Pacific Sailing School to learn the ropes. But if you're not feeling up to learning, then you can also hire a crew to take you out for pleasure.
SYDNEY OPERA HOUSE
Bannelong Point
www.sydneyoperahouse.com
An architectural masterpiece alone, one can also do so many things here besides admiring the building. To hear some music or other performances like operas and plays, check out the Concert Hall, which holds around 2700 people. The Opera Theatre is the home to Opera Australia, Sydney Symphony,
The Australian Ballet, Sydney Theatre Company, Sydney Chamber Orchestra and showcases the leading international acts from David Burns to Jodie Mitchel. The theatre holds more than 1500. The Playhouse, Drama Theatre, and The Studio offer more intimate performances, and High Tea, which takes place on Wednesdays from 2-4 at the Opera House, combines a 20-minute opera recital with food prepared by famous chef Guillaume Brahimi. Finally take in some food and drink and a variety of different bars, cafes, and restaurants throughout the building.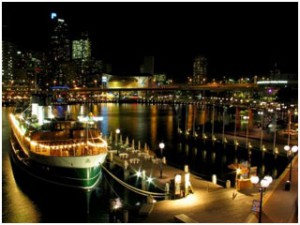 CIRCULAR QUAY AND THE ROCKS
Between the Sydney Harbour Bridge and the Sydney Opera House, you'll find the area known as Circular Quay, which is made up of walkways, pedestrian malls, parks and restaurants. It hosts a number of ferry quays (Ferries to take you across the water to different suburbs from Manley, The Zoo , to Watsons Bay and more). Take a stroll in the old section of TheRocks, where you can get tours of the historic buildings, and then pick up some local crafts for souvenirs. And if you can, stop by The Sidney Theatre Company and take in a show. It's where Cate Blanchett and her husband Andrew Upton are artistic directors.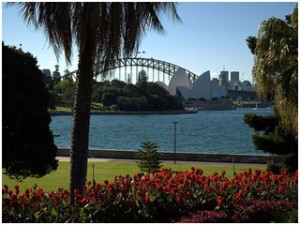 BOTANIC GARDENS
Mrs. Macquaries Road
www.rbgsyd.nsw.gov.au
The Royal Botanic Gardens are found in the heart of the city and offer a paradise away from urban life. See the lush gardens outside, then you can see tropical ecosystems recreated inside two glass houses, one in the shape of a pyramid. Then pop into the Gallery of New South Wales with a victoria façade and, a magnificent mid-century modern interior, featuring impressive Australian and International pieces.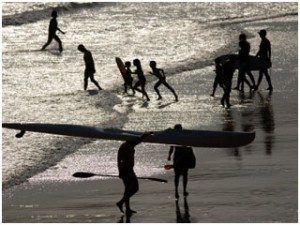 LET'S GO SURFING
Bondi Beach,
128 Ramsgate Avenue,
T 9365 1800
www.letsgosurfing.com.au
If you've never been out on a board before, perhaps you should try surfing in Australia, where it's a favorite pastime among many natives. You'll find great teachers here. For cheaper rates and even more experienced teachers, try Manly Surf School (www.manlysurfschool.com, T 9977 6977).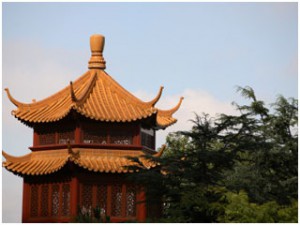 CHINATOWN AND CHINESE GARDENS
Darling Harbour,
T 9240 8888
www.chinesegarden.com.au
Holding one of the largest Chinese populations outside of China, Sydney boasts some of the best Oriental Food in the world. It also had one of the handful of traditional Chinese gardens outside of China. Head to the Tea House there for a respite from the crowds, and then stroll through the gardens for a peaceful retreat. Interpretation boards help visitors with the philosophy and design of the garden.