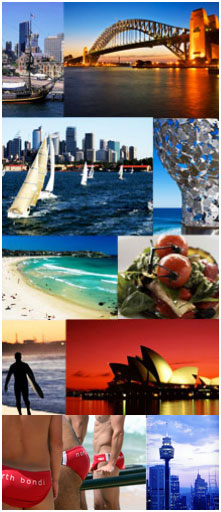 Stunning and flamboyant, Sydney is famous for its surf beaches, magnificent harbor, designer hotels, as well as its leading architecture and world-renowned film industry. A melting pot of various cultures, Sydney has had numerous influences in each and every aspect of its culture. Even the cuisine of Sydney borrows flavors and cooking techniques from the diverse cooking styles of the world. Containing some of the best restaurants of the world, Sydney, is a food-lovers' haven, and caters to every kind of taste. Known for its extremes, Sydney can be exciting and busy as well as laid back and peaceful. In Sydney you'll find cultural vibrancy, fantastic beaches (and swimwear), cultural diversity, and an amazing lifestyle.
Theories suggest that the area in and around Sydney has been inhabited by indigenous people for at least 30,000 years. The original inhabitants are the Cadigal people, whose land once stretched from south of Port Jackson to Petersham. Approximately 4,000 to 8,000 natives lived in the Sydney region prior to the arrival of British settlers.
In 1770, British sea Captain Lieutenant James Cook landed in Botany Bay on the Kurnell Peninsula. It is here that first contact was made with an Aboriginal community. Under instruction from the British government, a convict settlement was founded by Arthur Phillip, who arrived at Botany Bay with a fleet of 11 ships on 18 January 1788. This site was soon determined to be unsuitable for habitation, owing to poor soil and a lack of reliable fresh water. Phillip subsequently founded the colony further up the coast, at Sydney Cove on Port Jackson on 26 January 1788. He named it after the British Home Secretary, Thomas Townshend, Lord Sydney, in recognition of Sydney's role in issuing the charter authorising Phillip to establish a colony. The original name was intended to be Albion until Phillip decided upon Sydney.
By 1820 there were only a few hundred Aborigines and Governor Macquarie had begun initiatives to 'civilise, Christianise and educate' the Aborigines by removing them from their clans. Macquarie's tenure as Governor of New South Wales was a period when Sydney was improved from its basic beginnings. Roads, bridges, wharves and public buildings were constructed by British and Irish convicts, and by 1822 the town had banks, markets, well-established thoroughfares and an organised constabulary. On 20 July 1842 the municipal council of Sydney was incorporated and the town was declared the first city in Australia, with John Hosking the first elected mayor. The first of several gold rushes started in 1851, and the port of Sydney has since seen many waves of people arriving from around the world.