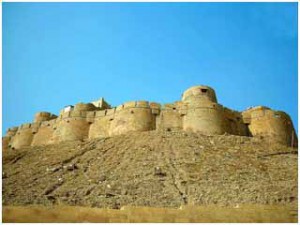 THE FORTRESS
The fortress still feels like medieval city, with its alleys and narrow streets packed with livestock, people, scooters, and vendors selling all kinds of goods, especially the renowned local silver.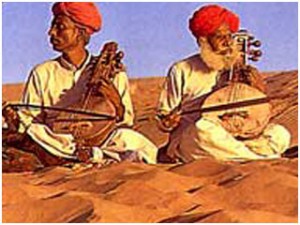 MUSIC
Rajasthani folk music has a long history. It is very soothing and earthy. Traditionally rulers had bards in their courts that sang tales of the heroic deeds of kings. Though the tradition is long dead nevertheless these ballads called "Rasos" can be heard even today. The legend of King Prithviraj Chauhan and his bard Chand Bardai who composed the Prithviraj Raso, a ballad, which details the brave deeds of Prithviiraj though exaggerated at times, is well known.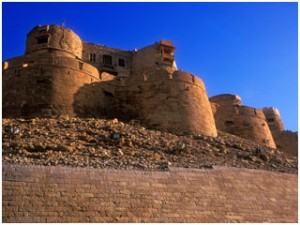 THE FORT PALACE
The fort is entered through a creepy series of massive gates leading to a large courtyard, fronted by the astonishing seven-story Maharaja's Palace. During its history the square was used to review troops, hear petitions and present entertainment for traveling dignitaries. Part of the palace is open to the public, where you'll find floor upon floor of fascinating rooms that look onto the outside world.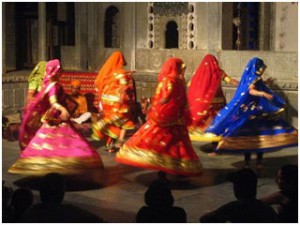 DANCE
Rajasthani folk dances are eye-catching. Women wear colorful clothes decorated with mirrors and embroidery; balance a column of brass pots on their heads, while swaying in time to the music. Some of the popular folk dances you might see in Rajasthan are Bhavai, Chari, Ghair, Ghoomar, Kacchi Ghodi (where a dancer wears a costume resembling a horse), Kalbeliya (performed by the women of the snake charmer community), and Teerahtali, where women perform with 13 cymbals tied to their limbs.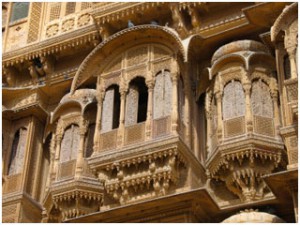 HAVELIS
The wealthy Jain merchants, who financed the fort, built for themselves nice mansions, called havelis. The Patwon Ji ki Haveli (www.patwahaveli.com) is an interesting piece of Architecture and the first built and most important among the havelis. It is a cluster of 5 small havelis, and the largest of the havelis in the city. Salim Singh-ki-Haveli was built by the Prime Minister Salim Singh in 1815. It has
a beautifully arched roof capped with blue cupolas and carved brackets in the form of peacocks. Nathmalji-ki-Haveli was built by a Prime Minister of princely state of Jaisalmer. Its facade is a riot of ornamentation: flowers, birds, elephants, soldiers, a bicycle and even a steam engine. Simla Haveli is a 500 year old building in Jaisalmer fort. Finally, Haveli Shreenath is a gorgeous 450-year-old haveli once inhabited by the prime minister under the maharaja.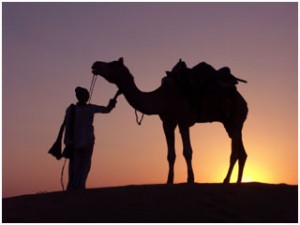 THAR DESERT SAFARI CAMEL RIDE
You can see the long stretches of sand dunes for what seems like forever. The golden crests and troughs provide you with the sense of limitlessness. Take a camel safari to experience this limitless Thar Desert.